Overview of the E-commerce Industry
E-commerce is one of the world's largest and fastest-growing industries since online buying has been a mainstay in daily living for years. However, the sector encompasses much more than just online shopping, and it will continue to develop and expand in response to market changes in the future (Goyal et al., 2019). Amazon, one of the world's top e-commerce firms, was started in 1995 as an online bookshop by Jeff Bezos. It has since grown to become one of the world's most successful e-commerce enterprises in the world. The firm's original business model was focused on book sales but has expanded to encompass everything from videos and computer software to household goods and fashion. This essay will provide an in-depth environmental analysis of Amazon.
General Environment
The several facets that influence how an organization operates belong to the business environment. The environmental study identifies the key elements using either Porter's five forces or PESTEL studies. The influence of macro-environment variables may significantly affect Amazon and other market participants. The macro-environment impacts Porter's Five Forces, which are the main influences on competitive landscape and strategic planning (Bruijl, 2018). They can change how a company competes and how profitable it is in the services business.
The threat of substitutes: Amazon faces serious competition because of cheap switching costs, evident with competitors like eBay. Second, there is a large amount of backup from physical retailers like Tesco in emergency purchases. Thirdly is the cheapness of alternatives, such as Gumtree, where buyers are given a place to meet with their vendors, albeit this is not without more danger.

Bargaining power of buyers: This is a challenging obstacle that Amazon contends with since customers now have more access to plenty of quality information via the internet, which means they can negotiate harder and locate other companies to do business with.

The threat of new entrants: Because it's expensive to build brands to compete with Amazon, new rivals can't mount a serious threat with their money in building their brands. Additionally, Amazon has significant economies of scale, giving them an advantage over its competitors.

Competitive rivalry: The great aggressiveness of the replacements in promoting and expanding their e-commerce businesses makes them an especially formidable force. The Tesco Corporation, for example, has established alternative storefronts which provide a genuine alternative to Amazon's online store

Bargaining power of suppliers: Because the suppliers are also significant, the forces are moderate: Sellers have an incentive to keep prices low to avoid competition. Second, as a middle ground, Amazon's moderate forward integration restricts suppliers' influence on Amazon
The PESTEL Analysis
PESTEL is a strategic tool that allows a company to assess the surrounding environment. It references the long list of influences that affect a company's macro environment (Phan, 2021). Analysis of the macro-environment risks that Amazon will encounter apart from competition pressures gives deep insight into how Amazon will run its business
Politics: Unstable governments can prevent citizens from accessing Amazon. Governments' attitudes toward E-commerce directly impact Amazon in countries where it operates. For example, a government that dislikes e-commerce may enact legislation that hinders the company's operations.

Economic factors: Currency exchange rates are one of the economic variables influencing Amazon. Due to the company's global reach, currency rates significantly influence sales. If the value of the US dollar fell in Amazon's foreign areas, revenues would fall owing to higher operating expenditures.

Social factors: The wealth gap influences how many online sales the business makes. A big wealth difference would harm the firm since the poor would have less discretionary cash, limiting the wealthy's market. In addition, increasing internet connectivity allows more individuals to use Amazon, increasing sales and expanding its reach.

Technological factors: Amazon's business model is based on online commerce; thus, technology is vital. Technological developments may have both good and bad consequences on the organization. New technology would also assist in boosting revenue as the new technology may assist cut operating expenses and increasing online sales.

Environmental factors: Amazon has to consider environmental issues as an online company, including the increased interest in environmental projects. Amazon may be able to take advantage of this new demand, helping to advance its image as an environmentally conscious online store. The firm might boost its reputation in addition to lowering its operational costs and its business sustainability.

Legal factors: Legal issues heavily influence Amazon's business practices due to the Increasing product restrictions. Increased import and export rules would make it difficult for the corporation to enter particular locations, lowering income, while loose regulations would allow consumers to send products elsewhere.
Amazon Market Position Map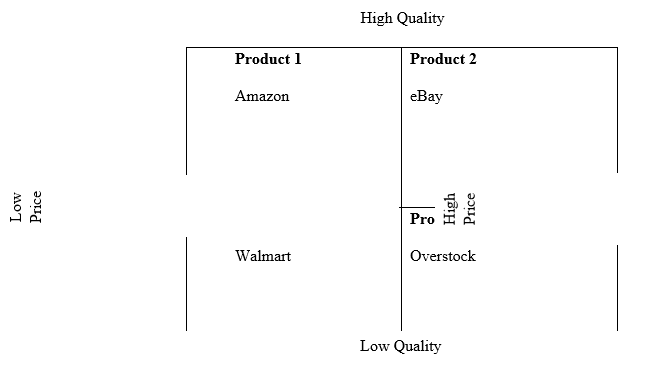 Amazon's dominance in the online marketplace offers advantages over other rivals such as eBay and Overstock. Amazon's merchandise includes items of excellent quality and also rock-bottom rates. eBay and Overstock have had to deal with products that are often overpriced, sometimes with poorer quality. Wal-Mart provides cheap but lower-quality goods. Amazon's astounding success in the industry is due to the astonishing growth rate of the company as a whole. Obtaining a precise understanding of a firm's competitive position because of various confounding elements is impossible with the growth rate data. It is helpful for businesses to use a position map to navigate the competitive environment.
Amazon Current Strategies
Amazon has long focused more on its customers' needs than on its competitors. Amazon has made the consumer the priority since the firm was founded. Amazon's priority is to ensure there is an increased customer experience. Amazon has put more effort into knowing its consumers and meeting their needs instead of focusing on rivals (Mullaney, 2017). Amazon has improved its ability to generate ideas and inventive approaches more efficiently than other companies (Onyusheva & Seenalasataporn, 2018). Amazon has been better at coming up with more and better ideas than other companies. The firm's CEO feels that focusing on present trends won't get a business anywhere. Amazon's primary objective is to offer the most satisfactory service to the customers, including reliable operations (Caporaso, 2018). Amazon's strategy is to improve existing models instead of always attempting new ones when they aren't successful.
Conclusion
Amazon is continuously trying to enhance its capabilities and as a result, the firm will be able to focus on its strong points instead of worrying about its weaknesses. Since Amazon cannot always predict the social, economic, and political conditions that may arise, they have done a fantastic job thus far in preparing for these events. There is no reason to be concerned with outside influences as long as the firm keeps pushing the innovation and grows its market share. Amazon will continue to grow, creating more employment and strengthening the economy via offering more significant opportunities for the firm and overall economic opportunities.
References
Bruijl, G. H. Th. (2018). The Relevance of Porter's Five Forces in Today's Innovative and Changing Business Environment. SSRN Electronic Journal. Web.
Caporaso, T. (2018). 100 million reasons why customer focus has paid off for Amazon. Nasdaq. Web.
Goyal, S., Sergi, B. S., & Esposito, M. (2019). Literature review of emerging trends and future directions of e-commerce in the global business landscape. World Review of Entrepreneurship, Management, and Sustainable Development, 15(1-2), 226-255. Web.
Mullaney, T. (2017). Five key business lessons from Amazon's Jeff Bezos. CNBC. Web.
Onyusheva, I., & Seenalasataporn, T. (2018). Strategic analysis of global e-commerce and diversification technology: the case of Amazon. Com inc. The EUrASEANs: Journal on Global Socio-economic Dynamics, (1 (8), 48-63.
Phan, S. (2021). The effect of PESTLE factors on the development of e-commerce. International Journal of Data and Network Science, 5(1), 37-42.