Corporate social responsibility is a broad term which can be defined in several ways. A concise way of defining would therefore mean that it is the social responsibility which the organization exercises on the societies within which they exist. In other words, it is the responsibility linked with the employees, stake holders covering ethical issues, legal requirements, relations and more. It basically, includes that what impact an organization has on its working environment and the society in which it resides.
However, one of the major facts to acknowledge here is that CSR lays the basis of the idea that organizations are not only concerned by the profits which they gain, but also internal operational factors in the company which contribute equivalently to an organization's success. It includes the commitment of an organization which enables them to perform maintain their high standard performance while dealing with ethical values and meeting customer and stakeholder expectations (Michael, 2007). This is what we see exercised by The Bank of New York Mellon. This can be summarized by the diagram shown below: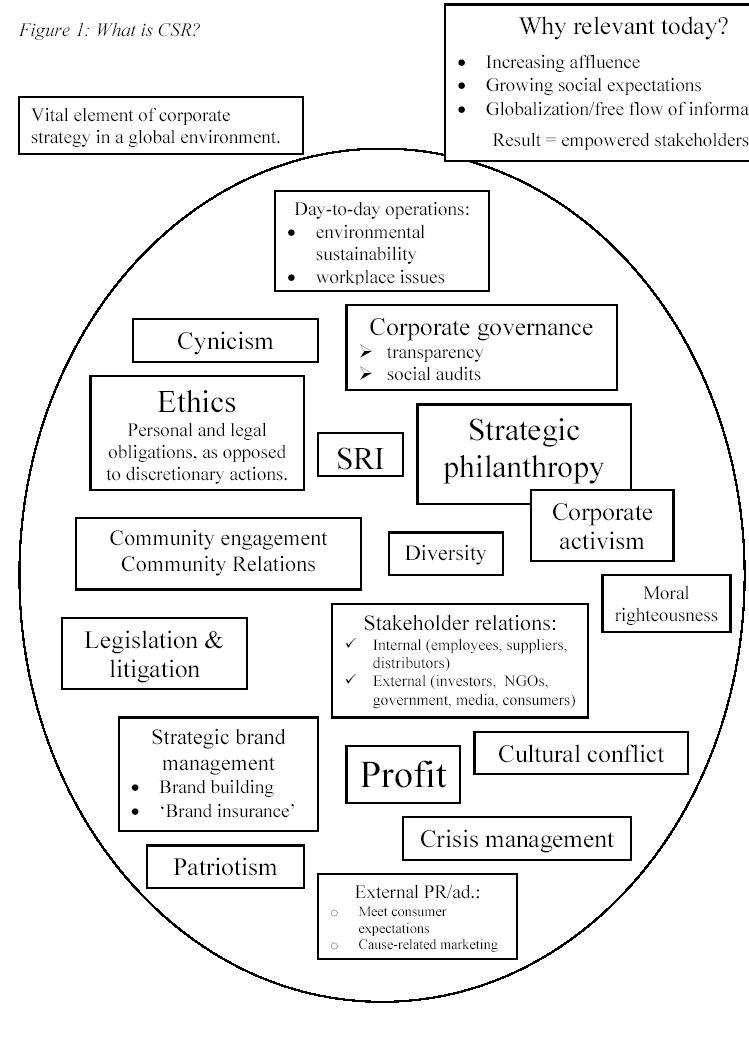 An organization incorporating the CSR strategies have a number of economic benefits for the company. This is important while considering issues such as fair trade policy, patriotism, corporate governance and more. CSR's importance lies in the fact that it covers all aspects of the business organization and involves everything from stake holders to the society. For this purpose, transparency is an issue which the CSR planning covers. It is the key to maintain trust among the managers. The planning strategies to implement CSR include every decision which a company has to make ranging from the equal treatment based on gender differences to the new trend of not paying corporate tax (Michael, p-5, 2007).
CSR strategy plays a vital role in almost every aspect of an n organization. An implementation of an effective CSR strategy would directly impact the brand building of the company, as seen in the BP Company. In contrast, inefficient planning strategies would result in a great failure as seen in Exon Mobil Company. Ineffective CSR strategy would result in NGO attacks on the company dismantling everything. NIKE is among one of the first companies to hire a Corporate Responsibility Vice President due to which the company survived (Carrol, p-500, 1979).
Hence, CSR is crucial in maintain the success of a company. It is an important strategy since it regulates an efficient working environment where customer trusts the company, their products, where employees continue their efforts for maintaining the respect of the company and the satisfaction of every stakeholder group.
Therefore, planning CRS efficiently is quite important today due to the changing social expectations whereby which consumers expect more from the companies and globalization due to which company blunders are immediately made public due to the internet and other communication modes. This affect the consumer-company relation and in turn company-stake-holder relations on a greater level. At this stage, CSR is very essential in regulating an efficient working system on the path of success keeping in view the changing high values and demands of the stakeholders (Kelly, 2007).
CSR is a business approach which ensures effective business environment in today's globalized world where organizations rely on brand strength. For this purpose, it is the essential to consider certain important issues taken in consideration while planning the Corporate Social Responsibility program. This includes appointing a committed top management with a Corporate Responsibility Manager and a department under it which works on the CSR strategies to incorporate followed by a regular audit and report. Moreover, the business organization requires maintaining good, stable relationship with the stakeholders and various other interest groups.
An essential planning strategy includes identifying the Values with great concentration. One such issue includes maintaining high ethical standards so that employees perform with stable integrity and trust. Moreover, the company should focus o n developing products in such a way that they satisfy the customer needs keeping in view the environmental options available in the services provided by the company.
CSR planning should aim at establishing such an environment, where clients can work comfortably and thrive to excel more. In addition, since the stakeholders play one of the major roles in the successful working of a company, all measures must be ensured to conduct business in accordance with the laws and regulations plus keeping in view the ethical value. For this purpose, the company requires to maintain such departments which keep a check on these essential needs. For instance, they can establish a Corporate Social Responsibility Committee with other sub committees such as an Ethics Office, Personal Securities Program, each having their own written code of conduct which provides a framework for an efficient work environment (Kelly, 2007).
Moreover, the company should engage with other business organizations with similar Corporate Social Responsibility programs. The Company should take care of the stakeholders and especially the clients. For this purpose they require complete client focus strategies in order to meet up specific customer needs. However, a company aims at establishing such an environment in which it expects its clients to live with the company's values.
For this reason, the company designs such committees which look into the matters of cultural diversity on the basis of difference in gender roles, color, caste and more. Moreover, the company should implement such comprehensive programs which enable the employees to build and polish professional skills and contribute to their society and family (Michael, p- 5, 2002).
To sum up, analyzing today's globalised world, the company requires not only to focus on the profit gains but also in providing an efficient working environment keeping in view the values and standards which are in accordance with the employees, consumers and stakeholders expectations.
Hence, for a stable and a successful running of a business organization, planning and implementing Corporate Social Responsibility program is quite crucial. CSR includes the social perspectives of the organization. This involves building up such an environment based on values and ethics, that the employees and stakeholders feel satisfied with their work. Thus, if planned strategically, Corporate Social Responsibility program would play an important role towards the success of the company.
References
Kelly, 2007, Corporate Social Responsibility Report, The Bank of New York Mellon.
Michael McComb, 2002, 'Profit to be found in companies that care,' South China Morning Post, p. 5.
Archie B. Carroll, 1979 'A Three-Dimensional Conceptual Model of Corporate Performance,' Academy of Management Review, Vol. 4, No. 4, p. 500.
Ruth Lea, 2002, 'Corporate Social Responsibility: IoD Member Opinion Survey,' The Institute of Directors, UK, p10.