Introduction
Pizza Hut is basically an American restaurant chain and international franchise with nearly 12,000 restaurants that offers different styles of pizza along with side dishes. It marks its history from the year 1958. Pizza Hut holds the most market share in the pizza industry. Some of its products include traditional pizzas, salads, breadsticks, and special kinds of pasta, etc which are renowned for their taste. It serves more than 1.7 million pizzas every day to its customers worldwide. Pizza Hut keeps one step ahead of its competitors by continuously introducing new products in the market. It is split into several restaurant formats; the unique family-style 'Red Roof' dine-in locations, and delivery locations that offer carry-out, delivery, and dine-in options.
Below is a map that shows the Services, Clients, and Products of Pizza Hut.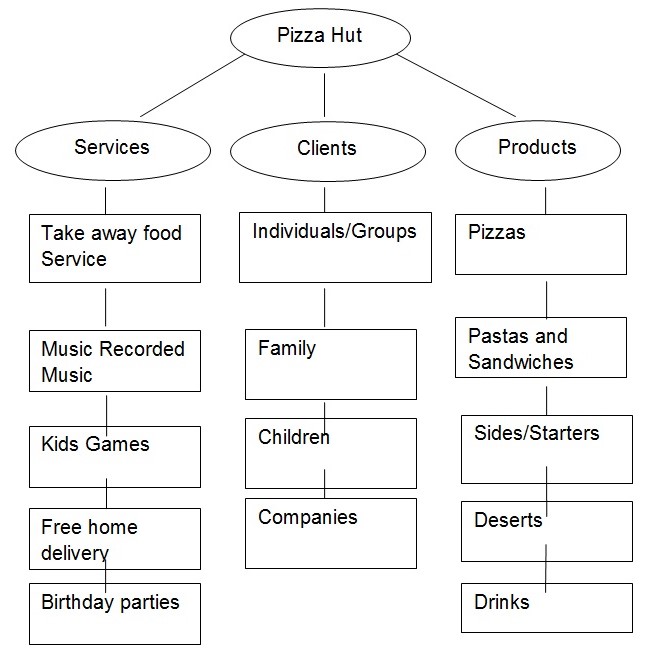 Let us consider the Pizza Hut branches in Kuwait and the branches in Saudi Arabia.
Pizza Hut, Kuwait
Location: Pizza Hut was first brought to Kuwait in the year 1982. The Pizza Hut branches are scattered in 5 regions, Mobarak, Kuwait City, Hawley, Farwanya, and Ahmady. There are in total 48 Pizza Hut outlets in Kuwait.
There are nine outlets of Pizza Hut located only in Kuwait City, which is the capital of Kuwait.
Timing: All the outlets in Kuwait are open for 12-16 hours every day. The branches located in Tunnis and Mishref are open for 24 hours.
Products and Services
We will now analyze the products and services of Pizza Hut in Kuwait City. The menu in all the outlets of Kuwait is the same. The menu card carries a brief description of each dish that makes it easy for the customer to chose.
The dishes included in the menu card are categorized into four:
Starters and Salads: There are 13 varieties of starters like chicken tender, breadsticks, garlic bread, Mozzarella sticks to name a few.

Pizza: They offer 11 types of normal pizzas like Super supreme, Meat Feast, Pepperoni Lovers, etc apart from the Pizzas Dough type and toppings(which are available for a price range of 1.500 KD-3.750KD i.e. Kuwaiti Dinar), and Create Your Own Pizza. 'Create Your Own Pizza' is a special variety that enables the customer to create pizza themselves by just ordering a Margarita pizza and then piling it with the additional toppings. The pizzas are sold in small, medium, and large sizes.

Pastas and Sandwiches: The Pastas and Sandwiches are 9 in variety. Some of them are named as Roasted Vegetable Baked Pasta, Beef Lasagna, Spaghetti bolognaise, etc.
And kids meal, beverages, and desserts: there are special varieties of dishes for kids. They are Kid's Spaghetti, Kid's Cheese Pizza, Kids Cheese Sandwich, and Kid's twisted Chicken Sandwich. The beverages include soft drinks like Pepsi and Mirinda, Ice Tea, Sparkling Water and Mineral water.
Service Parameter
Pizza Hut, Kuwait City has started a new offer called 'Share the Good Time' which gives its customers a fabulous discount for Din- in services on taking a 2005 card membership. It also has put a huge bell in all its outlets to know the customer satisfaction. If a customer rings the bell it shows his high level of satisfaction with the service offered to him.
Pizza Hut, Saudi Arabia
Pizza Hut is in service in Saudi market since 1986. It is positioned as the leading pioneer of the food industry in Saudi Arabia. "Being part of the Mawarid Groups, Pizza Hut enjoys an unparalleled wealth of experience and expertise classifying the Brand to be the Number One choice for any Pizza occasion, being Dine out, or Home Delivery." (Kingdom of Saudi Arabia: Our Story). Its presence in all major cities of Saudi has contributed towards its utmost brand awareness and strong marketplace.
Location: There are 106 branches of Pizza Hut in the kingdom out of which 31 outlets are located in Riyadh, the capital city.

Timing: The outlets in Saudi are open for 13 hours every day and they function for 14 hours a day on all weekends and holidays.
Products and Services
Let us now take into consideration the products and services offered by Pizza hut, Riyadh in Saudi Arabia. The food items offered here are classified as Starters and Salads, Pizzas, Pastas and Sandwiches and Desserts. The Pizza Hut of Riyadh offers Pizzas in 5 Varieties: normal Pizzas, the Ultimate Pizzas, the Specialty Pizzas, and Choose your Favorite Crust, unlike the Pizza Hut of Kuwait. The Ultimate Pizza has categories like Super Supreme, Chicken Supreme, and Seafood Island Pizza. Sea food Island Pizza is one variety that we don't find in the pizza huts of Kuwait. They have a broader variety of Pastas and Desserts unlike the one in Kuwait City.
The Pizza Huts in Riyadh has special service parameters
Restaurant Special Offers: By this offer a customer gets Big Cheese

Pizza: Which is a mountain of cheese on every Pizza. This is offered for different prices. For a price of SR.89 (Saudi riyal), a customer can get 2 Big Cheese pizzas. For a price of SR. 69, he gets 2 medium big cheese pizzas with additional toppings.

Home Special offers: A customer can get 2 Big Cheese pizzas and 2.25 L of Pepsi for a price of SR. 89. They can also get 2 Big Cheese Pizzas along with potato wedges and 2 Pepsi can for a price of SR.
It has special offers for the kids in its Fun Zone: the kids can celebrate their birthday party at Pizza Hut which is called Pizza Birthday Party. Also, they can avail free kids' toys with every meal they order at Pizza Hut.
It also offers its customers an easy way of ordering pizzas by sitting at home through their online order service.
Conclusion
With regard to the questionnaire given to the customers and the manager, a general statement can be made that the customers are well pleased with the service offered by Pizza Hut. This indicates good service at the outlets of Pizza Hut. But some customers also say that they cannot find some items available, which is a negative opinion towards this restaurant.
Pizza Hut faces tough competition from the influence of other restaurants like McDonald's, Domino's, KFC, etc but its advertising strategies, upbringing of new products, fantastic offers, and exciting deals help it to beat this competition. "They increase revenue with their new innovative pizzas, and increase brand loyalty with good customer service." (Background on Pizza Hut & Existing Marketing Mix of Comp: The History of Pizza Hut & Existing Marketing Mix of this Company).
Works Cited
Background on Pizza Hut & Existing Marketing Mix of Comp: The History of Pizza Hut & Existing Marketing Mix of this Company. eCheat.com. 2005. Web.
Kingdom of Saudi Arabia: Our Story. Pizza Hut. 2002. Web.