Summary
Table 1: A table showing incidences, mortality, and prevalence of breast cancer in UK
Item
Value
Incidence Rates
50,285
Mortality Rate
11,716
Prevalence Rate
80 % of the patients are diagnosed and survive for a period of ten years
85% of the patients diagnosed are able to live up to the 5thyear
Number of people receiving treatment
15,749
The long-term status of mortality and incidences of breast cancer are shown in the following graphs.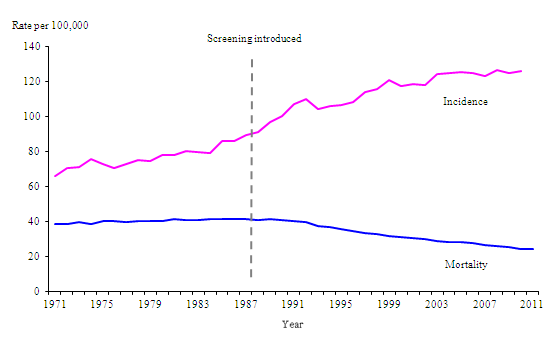 It is evident that, as of 2011, the incidences of breast cancer have been increasing continuously over forty years. On the contrary, there was a general reduction in the rate of mortality caused by breast cancer. However, the reduction started after the introduction of screening in 1987. Before the introduction of screening, rate of mortality was increasing at a very low rate (Digiulio 2012).
The second graph focuses on the registered cases of breast cancer and the distribution across various age groups. It cannot be disputed that the number of cases registered increased with the increasing age. The highest number of cases is registered at the 60-64 age brackets and reduces onwards.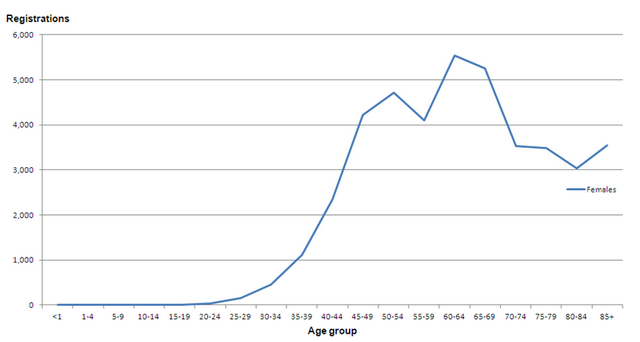 Effectiveness of Different Approaches Used to Treat Breast Cancer and UK
In regard to legislation, the government has stipulated laws that provide a framework for fighting the two diseases. These laws have been very effective because they increase access to healthcare services and enable medical professionals to serve more patients (Horii & Akiyama 2013). For example, in 2012, the UK government reviewed their immigration laws to allow citizens to access treatment against HIV/AIDS for free regardless of their immigration (Howard 2012). In regard to cancer, the government banned smoking in all enclosed public places as well as working environments. This law helps to reduce cancer that is caused by carcinogenic substances found in cigarettes.
The effectiveness of these laws is determined by the vibrancy of implementation (Jacobs 2011). It is, therefore, recommended that the legislators should not only concentrate on the stipulation of laws, but they should also develop concrete implementation plans.
Surveillance
When it comes to surveillance, the strategy has been very reliable, especially during the treatment of breast cancer and HIV. Its effectiveness is evoked by the fact that medical professionals are able to track the progress of the disease over time (Kissane & Watson 2011). In this case, they use periodical tests in order to determine the type of diagnosis that should be provided to the patients. As such, the diagnoses become more effective as compared to random treatment.
Despite the benefits, surveillance increases the risk, especially in cases where the intervals of conducting the tests are very long (Litwack 2013). As such, it is recommended that the intervals of the tests are small and safe in order to reduce the inherent health risks.
Health Education
Health education is very crucial when it comes to controlling both cancer and HIV (Maximov & McDaniel 2013). It sensitizes the public to take cancer screening to determine their status and pave way for early diagnosis. On the other hand, health education teaches people to embrace the best sexual practices to reduce the risk of contracting the disease.
In some instances, health education becomes ineffective because it does not afford to get enough audience (Palan et al. 2011). This implies that health educators have to work in collaboration with institutions such as schools and working places to capture enough audience.
Social Welfare
Importantly, social welfare helps to strengthen the family as a unit of the community and provide social security to the poor (Rosell 2012). This helps the people fighting HIV/AIDS and breast cancer to get support from their family members. It also ensures that the poor can live a dignified life where they access basic need to promote their health-based battling ability.
Although social welfare is a key component when it comes to fighting these two diseases, it does not focus on the long-term sustainability of poor families. Instead of providing the direct needs to the families, social welfare should focus on setting up programs that can enable them to attain financial independence.
Environmental Controls
Essentially, environmental controls are not very crucial in the treatment of breast cancers and HIV. This is based on the fact that the strategy seeks to modify the external environment whereas the two diseases are more responsive to internal conditions. However, the reduction of carcinogenic substances in the air is used as a preventative strategy in the control of cancer.
As stated above, the strategy does not provide reliable solutions to the treatment of HIV and cancer. Nonetheless, it is recommended that healthcare providers should make a long-term plan to reduce the risk factors especially when it comes to cancer.
Relationship between HIV and Breast Cancer Support Requirement
Essentially, Cubasch, Neugut & Karstaedt (2013) indicated that there is no significant correlation between HIV and breast cancer. The authors argued that people with HIV were found to resist breast cancer. Similarly, Palan et al. (2011) noted that breast cancer is a non-AIDS-defining type of cancer. This implies that people with HIV do not require a lot of breast cancer support as compared to communities with many people living with HIV.
Strategies Used to Ensure Users' Well-Being and Their Effectiveness
Quality provision strategy reduces the risks associated with the treatment process. It ensures that the treatment devices are proficient and non-infectious (Salazar 2013). Besides, it ensures that the patient receives the right diagnosis in accordance with the stage of the disease.
Quality provision cannot be used in isolation because medical professionals need to focus on quality too (Suba 2013). As such, this strategy should be used in moderation to ensure that the hospitals do not compromise the quantity of service provided. This recommendation is made because focusing on quality provision entirely may deplete financial resources.
Partnership Working
Since HIV and some types of cancers have a correlation, partnership working enables medical professionals to determine the relationship between HIV and breast cancers. Indeed, working in partnership will enable them to conduct research continuously and come up with precise findings regarding the correlations of both diseases.
Whereas partnership working is crucial, it also leads to complications of logistics when a patient is seeking services (Taghian 2012). This is due to the fact that partnership working includes people of different medical disciplines and orientations. These differing perspectives may cause ideological and strategic conflicts. As a result, it is recommended that partnership working should be used in several sessions of treatment, but not the entire process of diagnosis.
References
Cubasch, H, Neugut, A & Karstaedt, 2013, "Breast cancer characteristics and HIV among 1,092 women in Soweto, South Africa", Breast Cancer Research and Treatment, vol. 140, no. 1, pp. 177-186.
Digiulio, S 2012, "Breast cancer patients show cognitive decline with CMF regimen", Oncology Times UK, vol. 13, no. 2, pp. 1-21.
Horii, R & Akiyama, F 2013, "Histological assessment of therapeutic response in breast cancer", Breast Cancer, 14(2), 1-13.
Howard, P 2012, Placement Learning in Cancer and Palliative Care Nursing as a guide for students in practice, Elsevier Health Sciences UK, London.
Jacobs, L 2011, Breast cancer, Elsevier Saunders, Philadelphia.
Kissane, D & Watson, M 2011, Handbook of psychotherapy in cancer care, Wiley-Blackwell, Chichester.
Litwack, G 2013, Hormones and breast cancer, Elsevier Science & Technology, North Hollywood.
Maximov, P & McDaniel, R 2013, Tamoxifen pioneering medicine in breast cancer, Springer, Basel.
Palan, M, Shousha, S, Krell, J & Stebbing, J 2011, "Breast Cancer in the Setting of HIV", Pathology Research International, vol. 5, no. 1, pp.1-4.
Rosell, R 2012, Molecular-based decision making for personalized cancer management, Future Medicine, London.
Salazar, J 2013, Inflammatory breast cancer, Springer, London.
Suba, Z 2013, "Estrogen prevention for breast cancer", Nova Science, New York.
Taghian, 2012, Breast cancer, Demos Medical Publishers, New York.